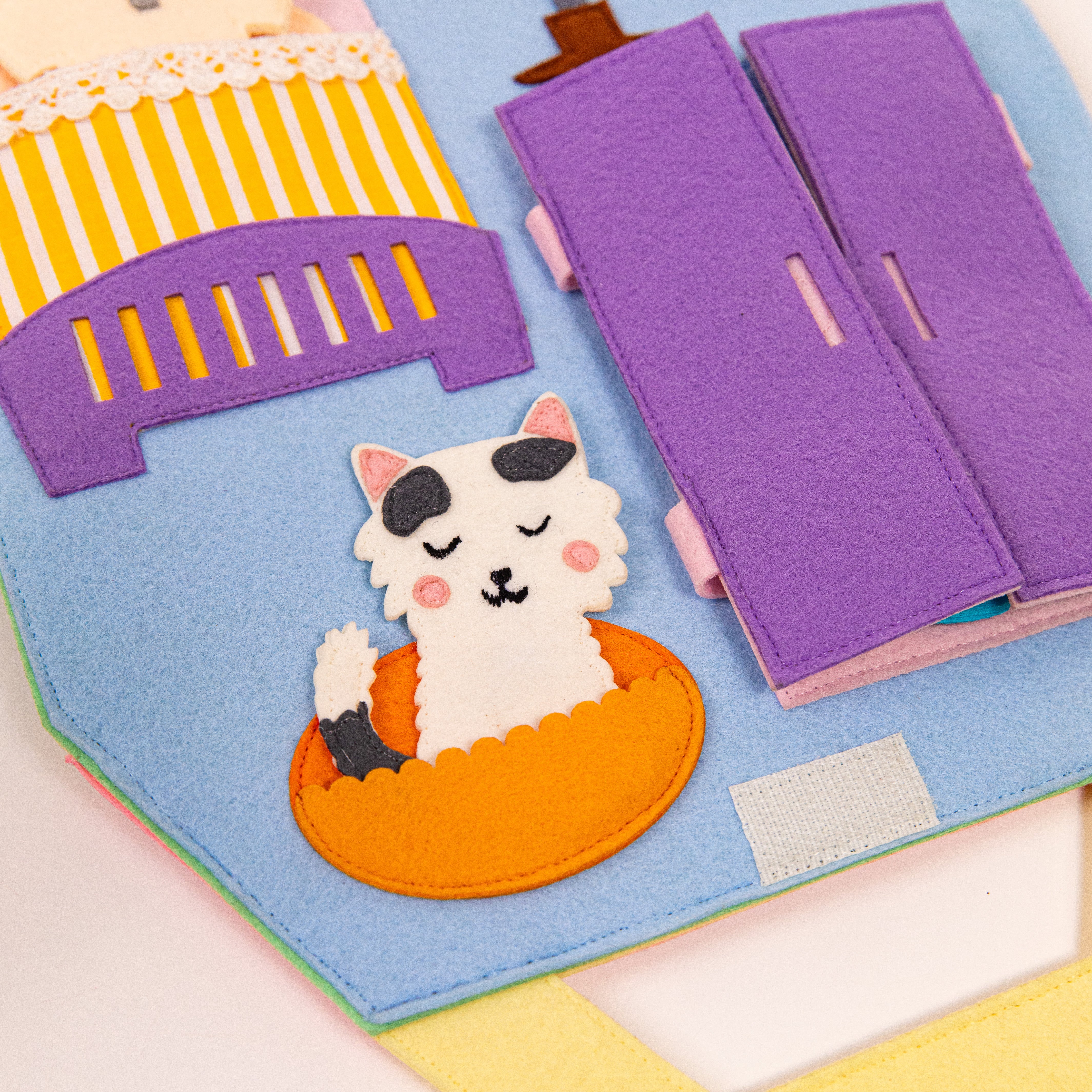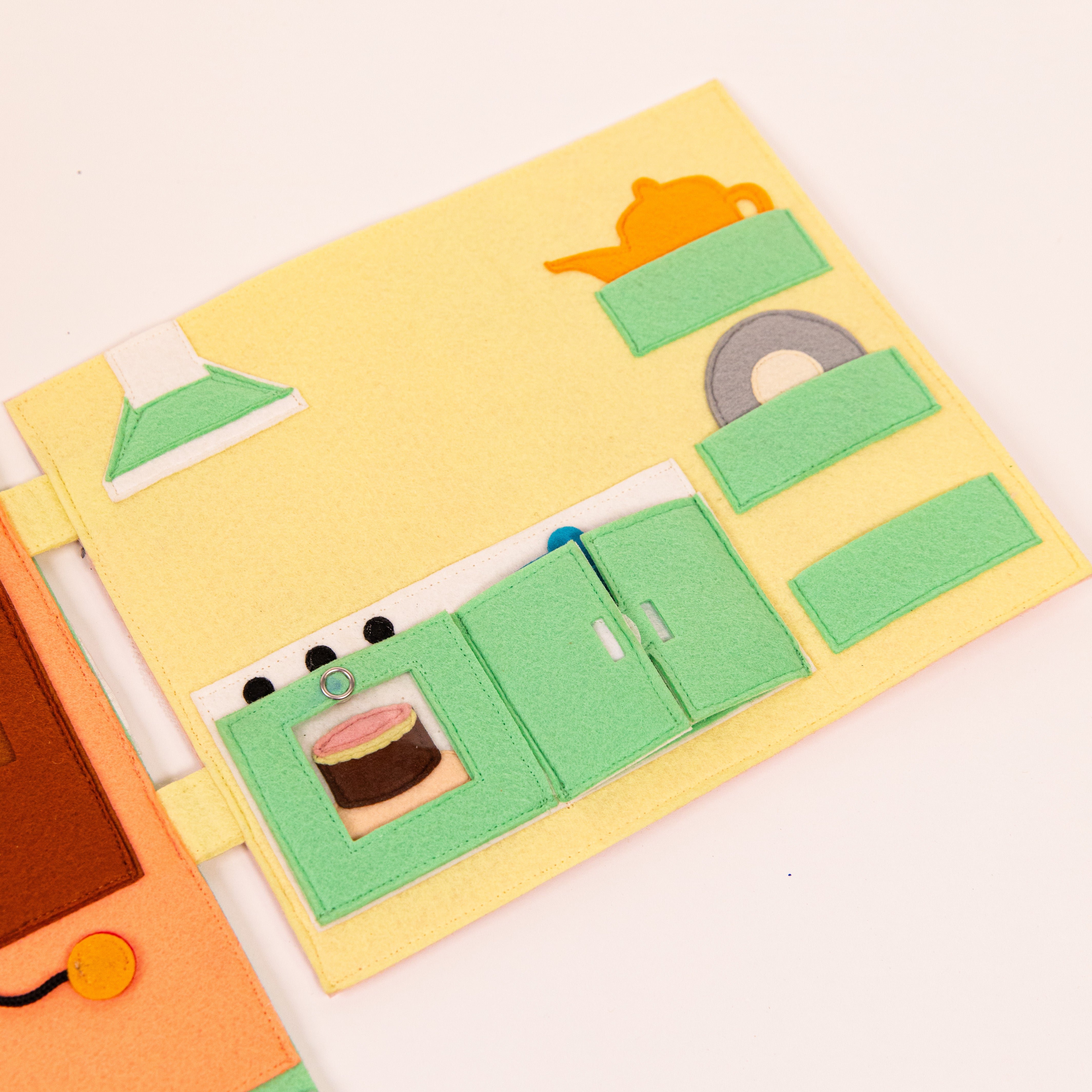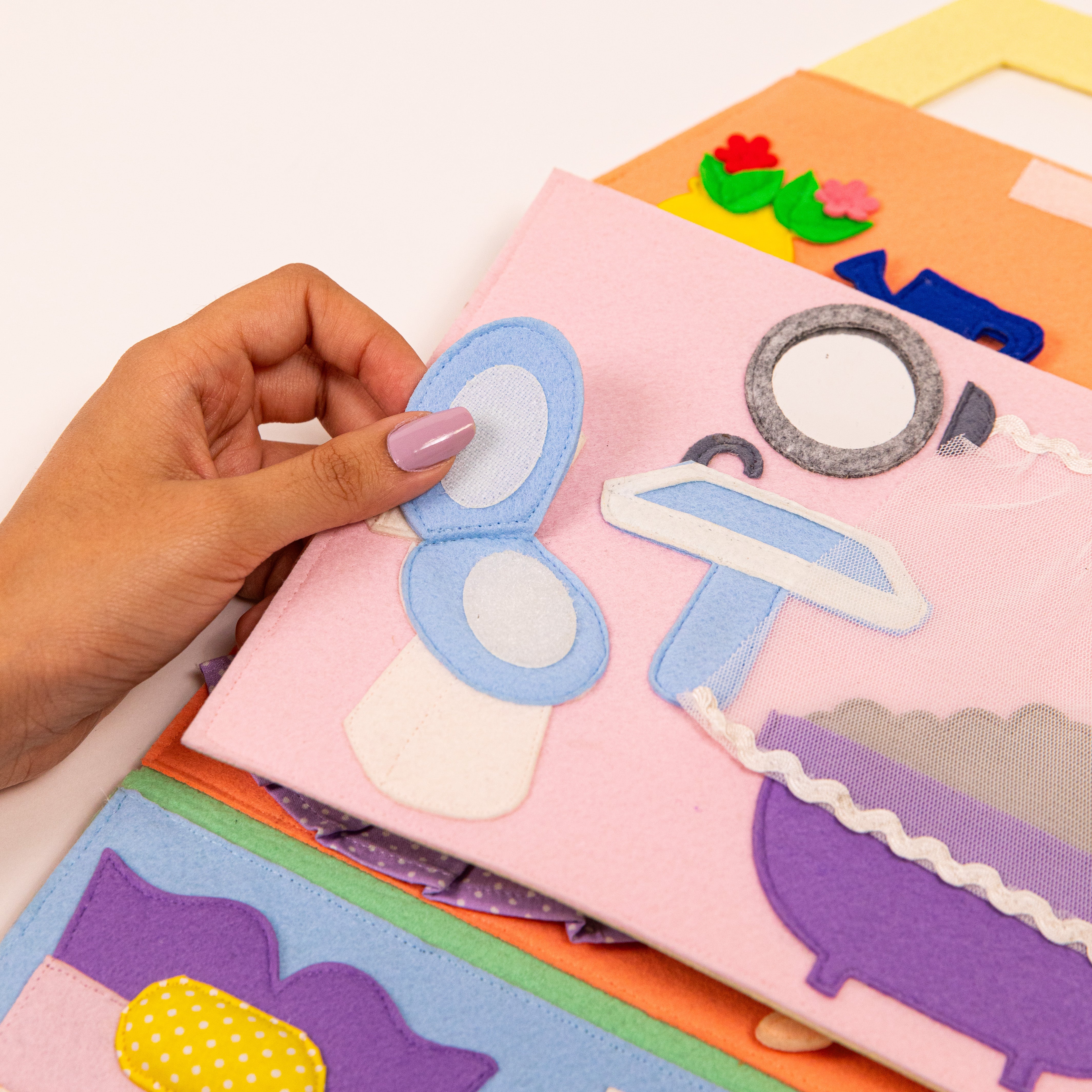 Travel Buddy Doll House
A cute house with lots of great ways to play

As a doctor in pediatrics and a mom, I love Quiet Books. Especially because Quiet Books are so intuitive, free play is encouraged without overwhelming the children. My child loves his Quiet Book and spends a lot of time alone and independently with it.
Dr. Celine Schlager, MD
Welcome to the Travel Buddy dollhouse. The lovingly designed rooms invite imaginative role play. The 3 finger puppets accompany through everyday situations and bring joy and play fun.

What makes this Quiet Book special?

Pretend play and story telling

Appropriate for boys and girls

Quiet Time for Parents

Engaging travel toy
Why should I choose this for my child?

The Travel Buddy dollhouse helps toddlers become familiar with their daily routines, promoting a sense of structure and an understanding of everyday life.
Activities such as picking out clothes, bathing and preparing food encourage fine motor skills, hand-eye coordination and dexterity as children operate the book's interactive components.
Introducing hands-on skills encourages responsibility and independence.
How does it improve developmental skills?

Welcome to the Travel Buddy Dollhouse. The lovingly designed rooms invite you to engage in imaginative role play. The 3 finger puppets accompany you through everyday situations and bring joy and fun.
Are the materials used safe?

We understand that early childhood play essentials need to be safe. All materials used in our quiet books are carefully selected and rigorously tested to meet international safety standards. We use child-friendly fabrics and non-toxic dyes.

Designed in Germany

Oekotex Certified

Child Safe
Meaningful

Play

This play essential enhances specific cognitive, fine motor and social & emotional skills. Find out which milestones they cover below.
Fosters logical reasoning and problem solving skills.
Boosts coordination between hand and visual perception.
Fosters staying engaged & ability to stay focused.
Boosts memory, concentration, and cognitive flexibility.
Improves ability to focus without getting distracted.
This product has no reviews yet.