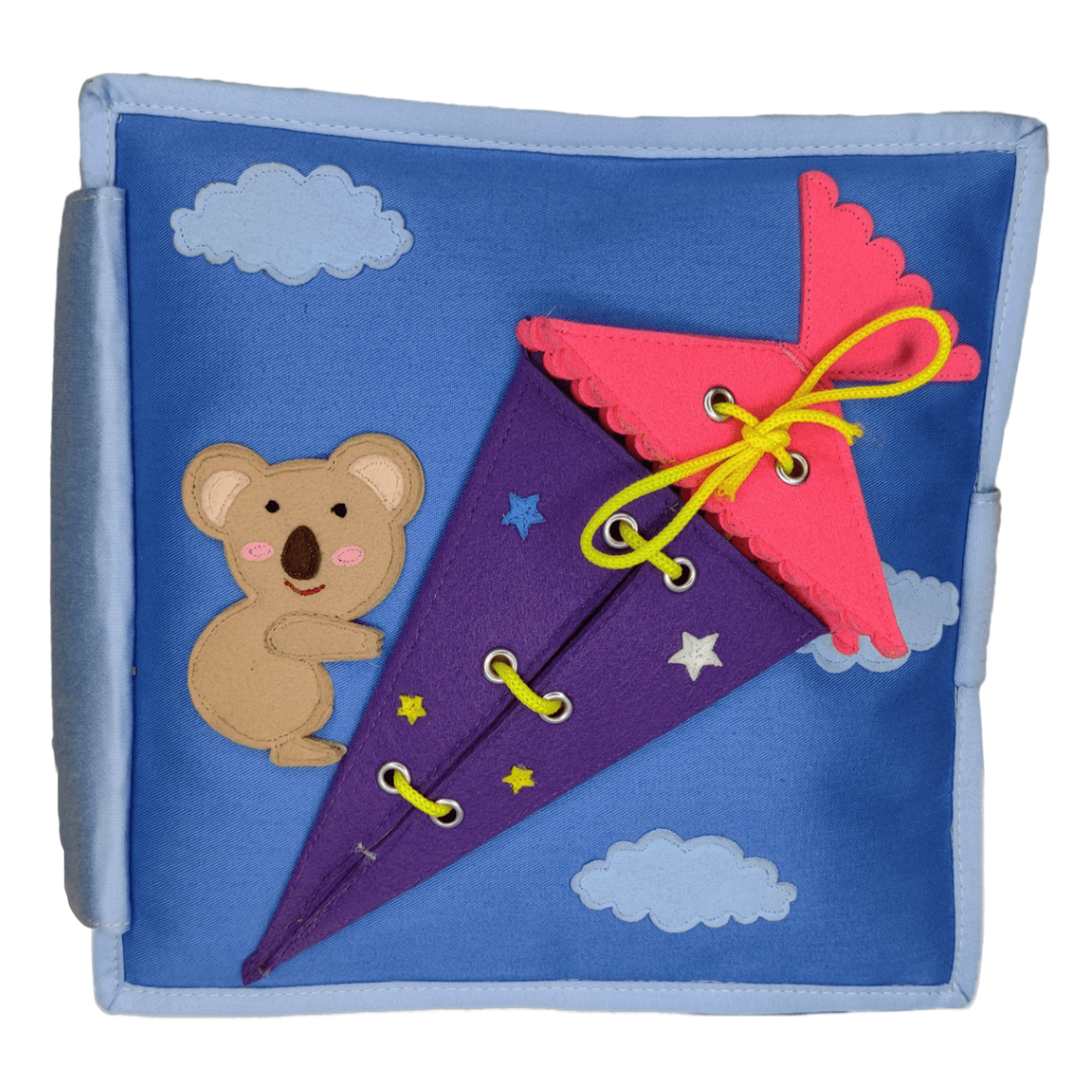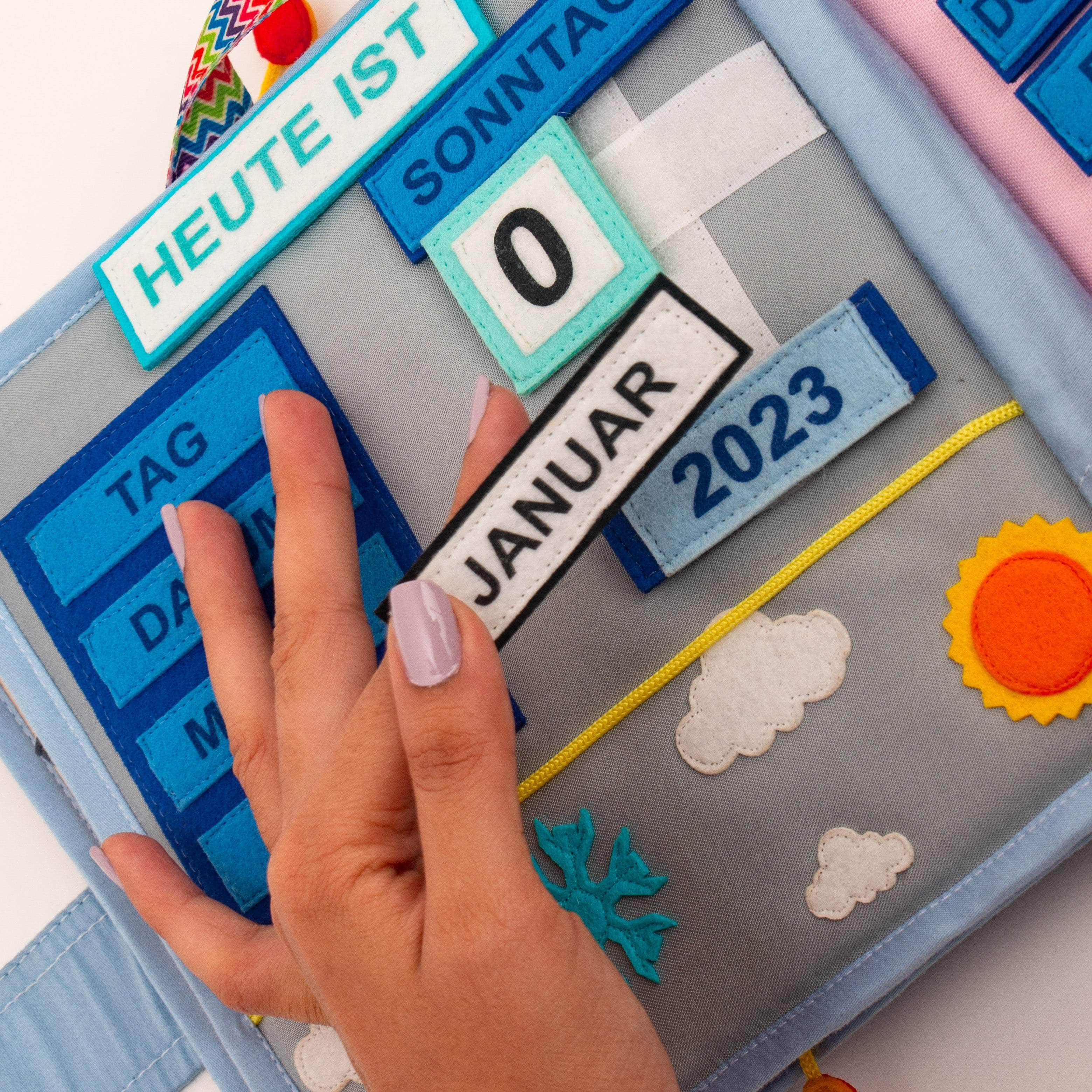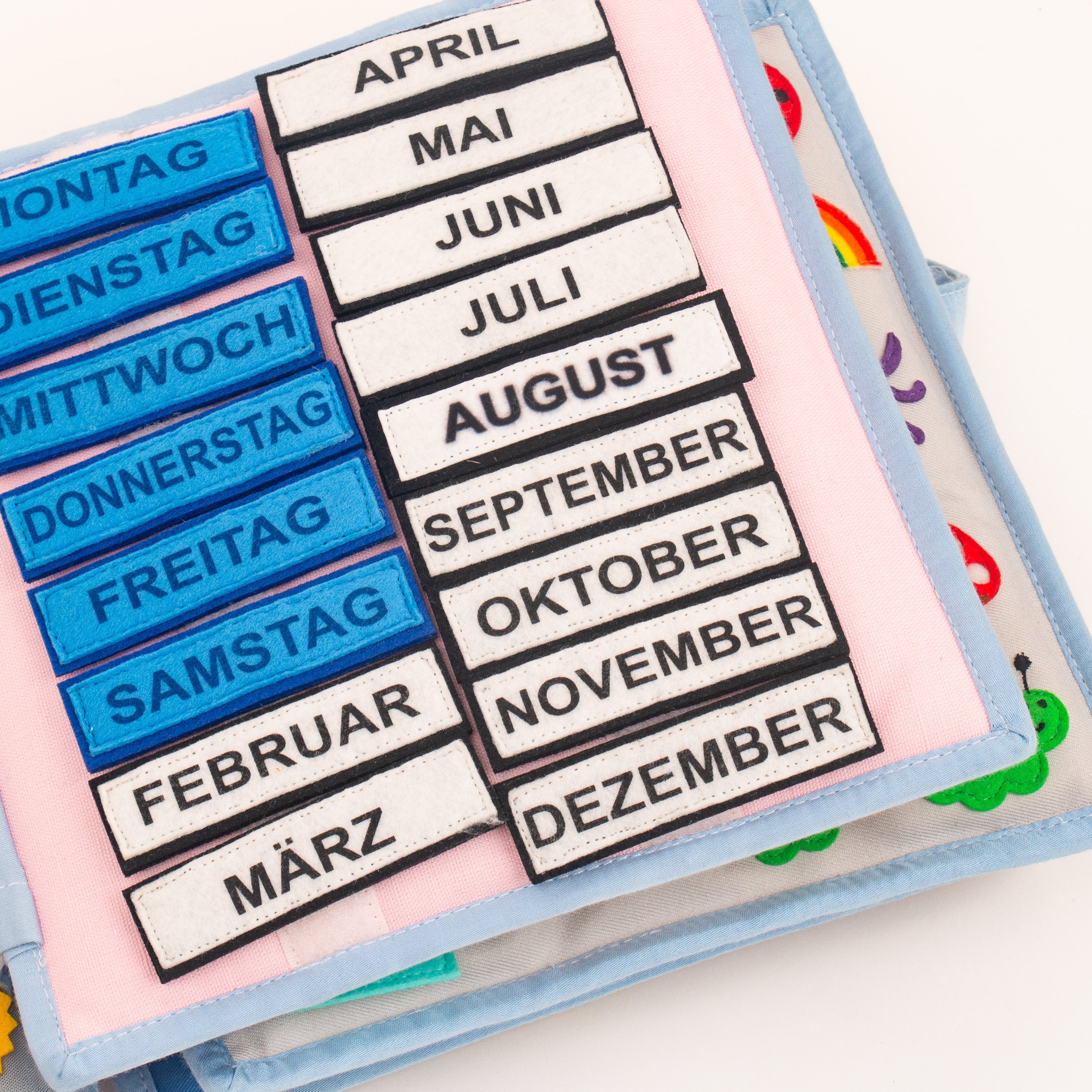 My First School Day - 6 pages Quiet Book
The perfect preparation for school

As a doctor in pediatrics and a mom, I love Quiet Books. Especially because Quiet Books are so intuitive, free play is encouraged without overwhelming the children. My child loves his Quiet Book and spends a lot of time alone and independently with it.
Dr. Celine Schlager, MD
My First School Day - Quiet Book from 5 years has 6 thoughtful and playful pages that individually promotes the development of your child. It is educationally valuable and brings the topic of "school" closer.

What makes this Quiet Book special?

Educational

Practical life skills

Meaningful Play

Made with love

Recommended by child experts

Practical bag included
Why should I choose this for my child?

My First School Day is not only a thoughtful gift but also a valuable tool for enhancing brain development, numeracy skills, fine motor skills, and fostering independence and creativity in 4-6-year-olds.
- Helps children early math skills.
- Introduces the concept of time and helps children understand how to read clocks.
- Engaging with different buckles improves finger dexterity.
- Teaches children about days, dates and weather conditions, helping them understand the world around them.
How does it improve developmental skills?

Our quiet books are created to promote early childhood brain development. They feature interactive and sensory elements, such as textures, colors, shapes, and activities that engage your child as they grow. These activities stimulate cognitive, fine motor, social and emotional skills. They help in fostering creativity, hand-eye coordination, problem solving and critical thinking abilities in your child. By exploring our quiet books, your child will embark on an exciting journey of self-learning.

Check all the developmental milestones this book meets by exploring here.
Are the materials used safe?

We understand that early childhood play essentials need to be safe. All materials used in our quiet books are carefully selected and rigorously tested to meet international safety standards. We use child-friendly fabrics and non-toxic dyes.

Designed in Germany

Oekotex Certified

Child Safe
Meaningful

Play

This play essential enhances specific cognitive, fine motor and social & emotional skills. Find out which milestones they cover below.
Boosts memory, concentration, and cognitive flexibility.
Improves critical thinking and logical reasoning.
Fosters logical reasoning and problem solving skills.
Improves understanding of categorization and comparison.
Improves ability to focus without getting distracted.
Fosters staying engaged & ability to stay focused.
This product is rated 5.0 of 5.0 stars.
It has received 1 review.