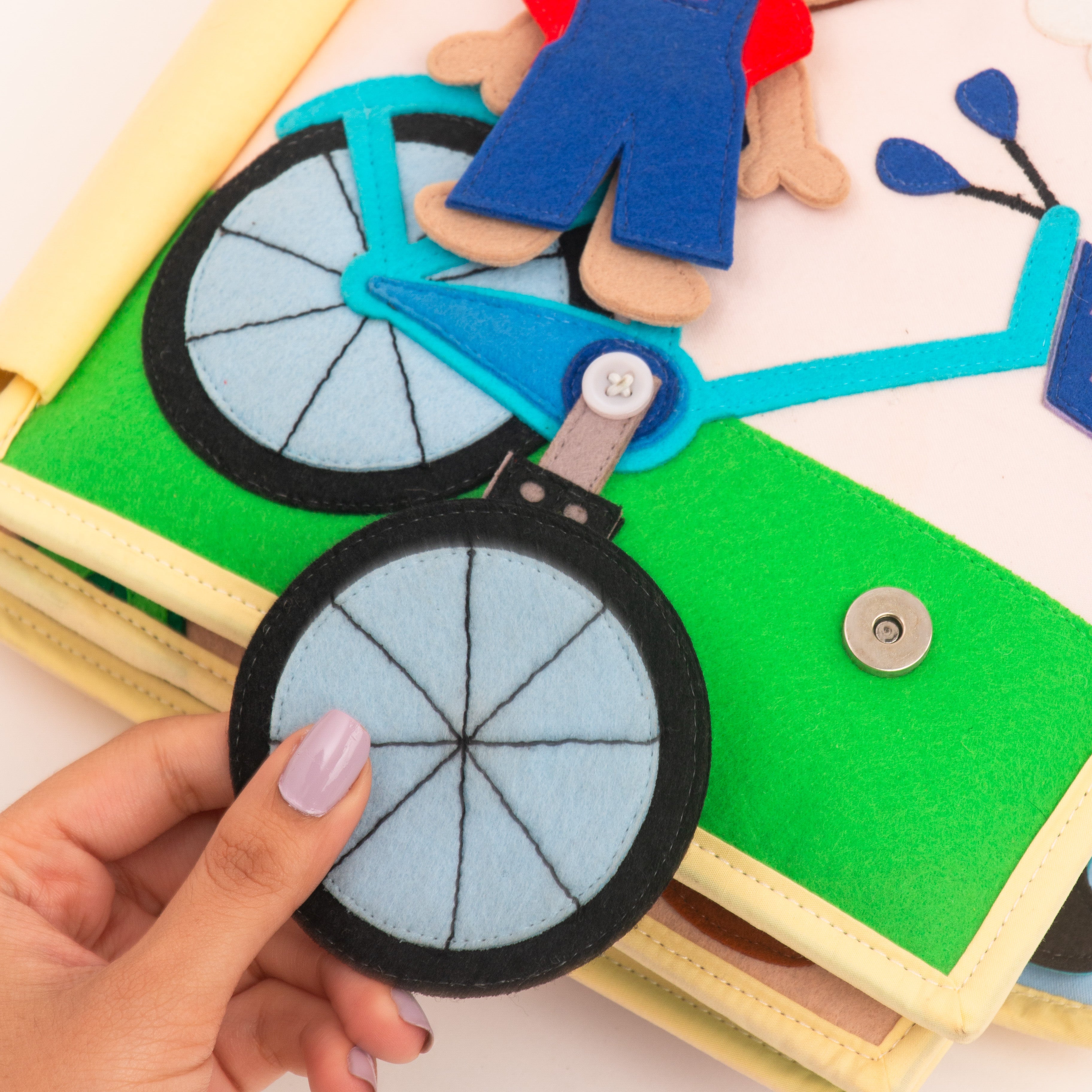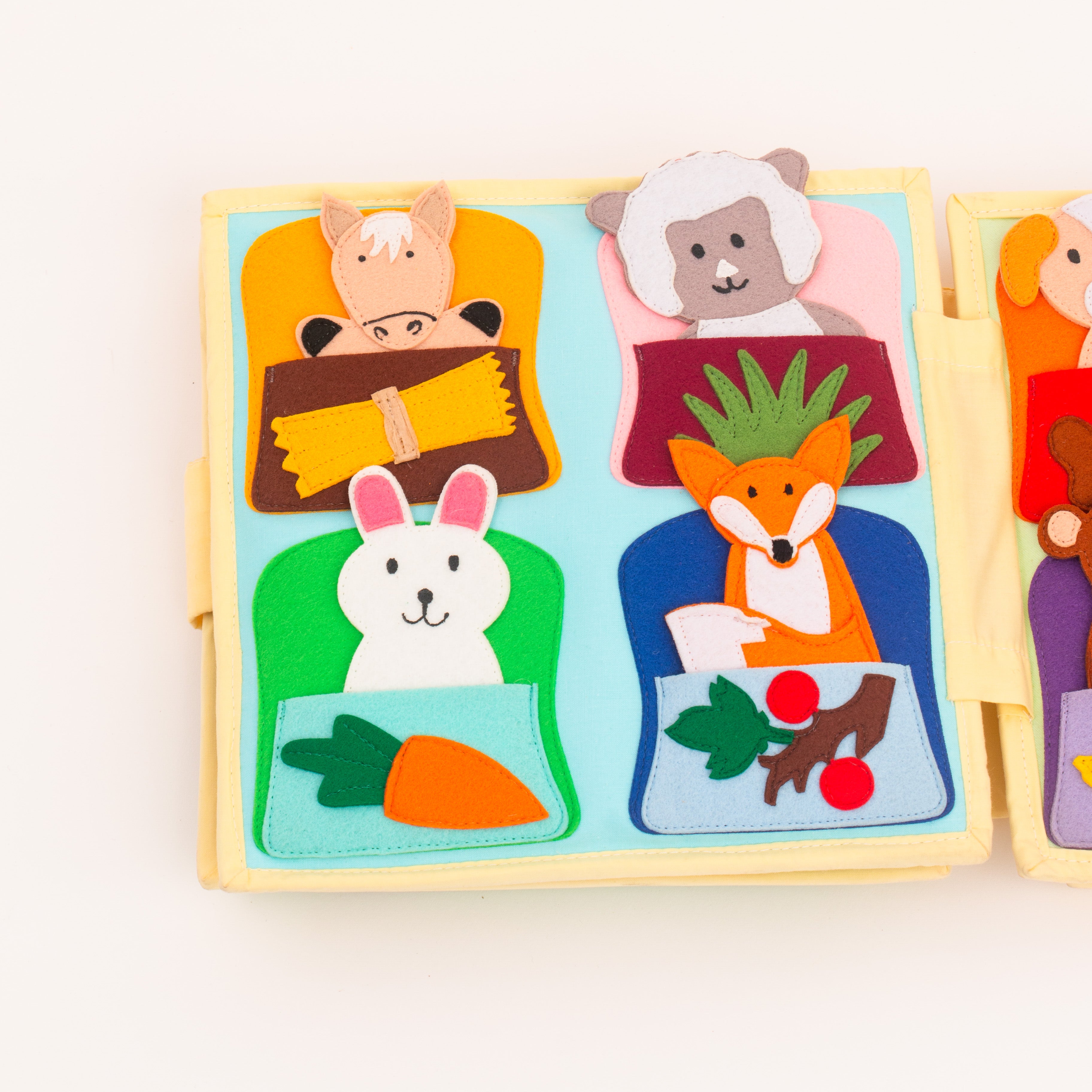 My First Bicycle - 6 Pages Quiet Book

As a doctor in pediatrics and a mom, I love Quiet Books. Especially because Quiet Books are so intuitive, free play is encouraged without overwhelming the children. My child loves his Quiet Book and spends a lot of time alone and independently with it.
Dr. Celine Schlager, MD
My First Bicycle Quiet Book supports, on 6 creative and uniquely designed pages, to build skills while having fun. This tactile book is suitable as a child's toy for toddlers 18 months and older.

What makes this Quiet Book special?

Educational

Practical life skills

Meaningful Play

Made with love

Recommended by child experts

Practical bag included
Why should I choose this for my child?

My First Bicycle integrates color matching and finger puppets into your 18-month-old's daily routine.
- Fishing activity enhance cognitive skills, fine motor skills, and hand-eye coordination.
- Color Matching Strengthen color recognition, memory and problem-solving.
- Finger puppets and animal matching foster creativity, imagination, language development, and social interaction.
- Washing machine promote pretend play, patience, and understanding of everyday tasks.

How does it improve developmental skills?

Our quiet books are created to promote early childhood brain development. They feature interactive and sensory elements, such as textures, colors, shapes, and activities that engage your child as they grow. These activities stimulate cognitive, fine motor, social and emotional skills. They help in fostering creativity, hand-eye coordination, problem solving and critical thinking abilities in your child. By exploring our quiet books, your child will embark on an exciting journey of self-learning.

Check all the developmental milestones this book meets by exploring here.
Are the materials used safe?

We understand that early childhood play essentials need to be safe. All materials used in our quiet books are carefully selected and rigorously tested to meet international safety standards. We use child-friendly fabrics and non-toxic dyes.

Designed in Germany

Oekotex Certified

Child Safe
Meaningful

Play

This play essential enhances specific cognitive, fine motor and social & emotional skills. Find out which milestones they cover below.
Improves understanding of categorization and comparison.
Boosts coordination between hand and visual perception.
Boosts visual communication & color perception.
Fosters logical reasoning and problem solving skills.
This product is rated 4.9 of 5.0 stars.
It has received 8 reviews.
Unser Favorit!
Von unseren 4 Büchern (bald 5) ist das bisher der absolute Favorit der Kinder. Sie können so viel machen und beschäftigen sich unglaublich lange damit. Selbst die kleine mit 10 Monaten liebt die Bücher! So eine hochwertige Verarbeitung und so viel Liebe zum Detail.
Toll für unseren Urlaub
Es ist unser 3 Buch habe dieses für unseren Urlaub gekauft weil es total vielseitig ist ! Hat uns unseren Flug verkürzt und sie liebt es nach wie vor und ist täglich im Einsatz seit dem
Super süß gemacht
Tolles Buch u sehr süß gemacht, ich verstehe dass Handarbeit aufwendiger ist aber dennoch ist der Preis schon sehr hoch für ein einzelnes Buch , darum 1 Stern Abzug
Einfach toll
Das Quiet Book kam bei meiner Tochter super an und hat sie auf einer langen Autofahrt echt toll beschäftigt.
Das Buch ist hochwertig und super schön detailreich verarbeitet.
Meinen kleinen Sohn konnte ich zudem mit den schönen Fingerpuppen bespaßen.
Mein Erstes Fahrrad - 6 Seiten Quiet Book