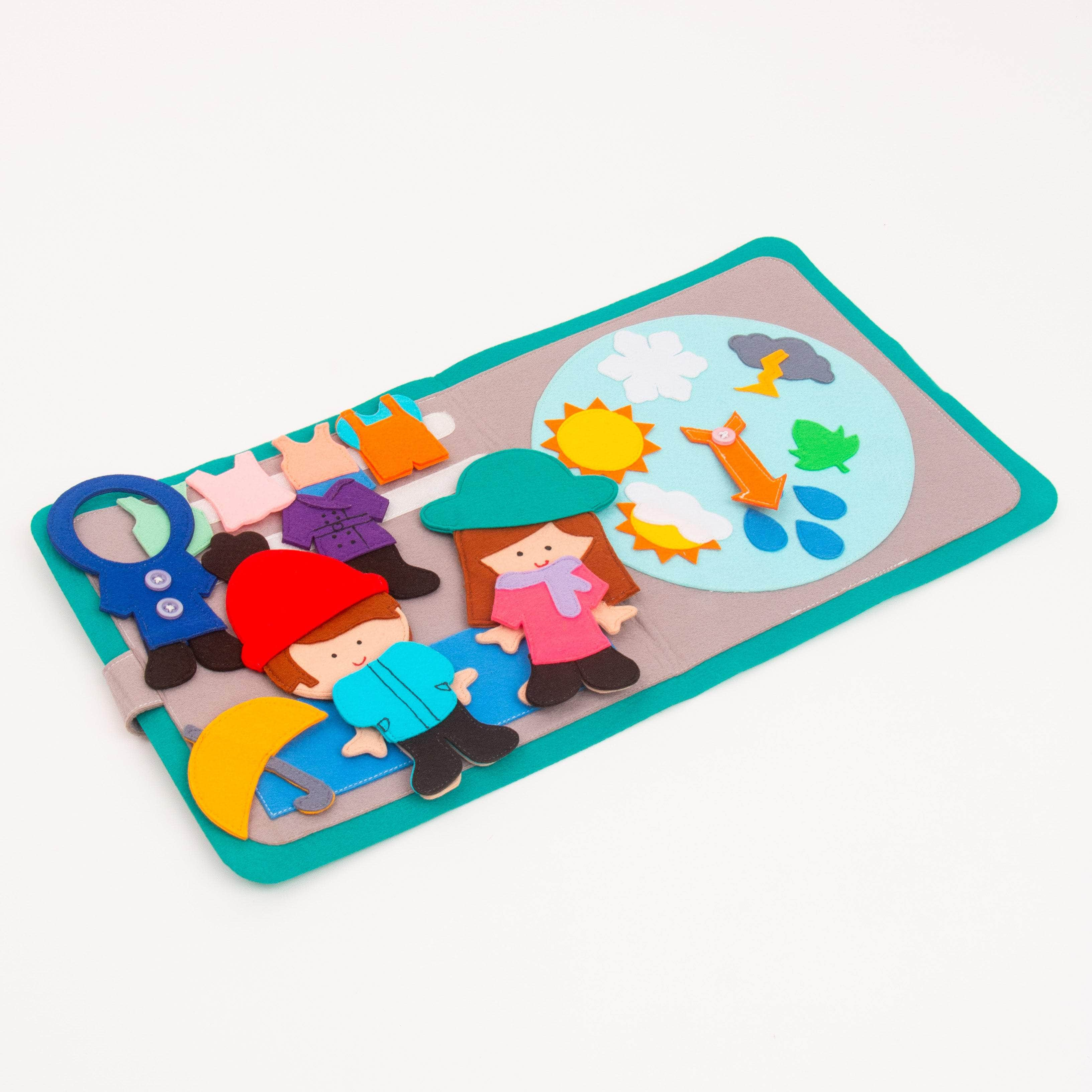 Weather - 2 Pages
Explore the relationship between weather and appropriate clothing

As a doctor in pediatrics and a mom, I love Quiet Books. Especially because Quiet Books are so intuitive, free play is encouraged without overwhelming the children. My child loves his Quiet Book and spends a lot of time alone and independently with it.
Dr. Celine Schlager, MD
The weather booklet is great for teaching your 2-year-old about the weather and which clothes are suitable for which weather. For this purpose, two cloth dolls are provided, which can be dressed in different clothes depending on the weather.

What makes this Quiet Book special?

3D elements

Light Weight and Compact

Gender Neutral

Theme Specific

Collapsable and stackable

Early Education
Why should I choose this for my child?

- The weather booklet builds children's weather vocabulary, promoting language development and communication skills.
- Dress-up dolls and matching clothes in the booklet teach children about appropriate attire for different weather conditions.
- The booklet is practical and versatile for use at home or on the go, encouraging continuous learning and weather discussions.
- It serves as an enjoyable and interactive educational toy, fostering creativity, social interaction, and learning through play.

How does it improve developmental skills?

Discover our fascinating booklets for gender-neutral early childhood education! Each booklet is themed and includes interactive elements such as textures, colours and shapes. These encourage your child's cognitive, fine motor, social and emotional skills. They will learn through play with creativity, hand-eye coordination and problem solving. Foldable and stackable, they are lightweight and compact, ideal for travelling.
Are the materials used safe?

We understand that early childhood play essentials need to be safe. All materials used in our quiet books are carefully selected and rigorously tested to meet international safety standards. We use child-friendly fabrics and non-toxic dyes.

Designed in Germany

Oekotex Certified

Child Safe
Meaningful

Play

This play essential enhances specific cognitive, fine motor and social & emotional skills. Find out which milestones they cover below.
Boosts coordination between hand and visual perception.
Fosters logical reasoning and problem solving skills.
Improves critical thinking and logical reasoning.
This product is rated 5.0 of 5.0 stars.
It has received 1 review.