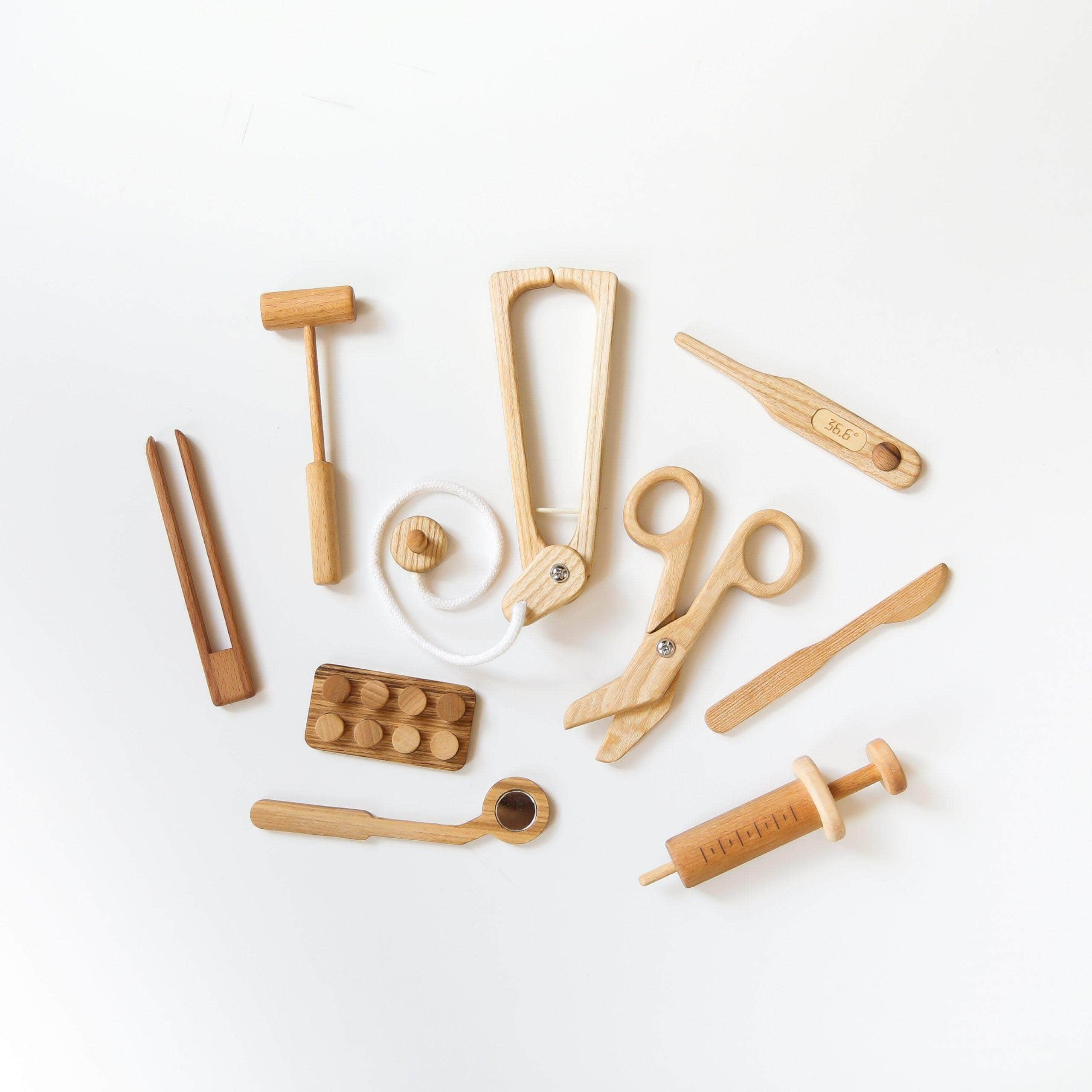 Educational Doctor Set
provides an exciting insight into the world of medicine

As a doctor in pediatrics and a mom, I love Quiet Books. Especially because Quiet Books are so intuitive, free play is encouraged without overwhelming the children. My child loves his Quiet Book and spends a lot of time alone and independently with it.
Dr. Celine Schlager, MD
The wooden toy doctor set provides an exciting and interesting insight into the profession of doctor through its many components. With this wooden toy made of solid ash and beech which is covered with natural Biofa oil, your child has the opportunity to occupy himself for hours and to doctor his cuddly toys.

What makes this Quiet Book special?

Hand Finished

Solid Wood

No paints

Versatile

Montessori Toy

Fair produced in small batches
Why should I choose this for my child?

- The wooden toy doctor set introduces children to the world of doctors, providing an engaging and educational experience. Made from solid ash and beech, this durable toy offers hours of playtime for toddlers.
- Children can play doctor using the integrated wooden tools. They can check temperatures and administer wooden pills if needed. The set also includes a plaster for treating injuries.
- Aspiring dentists can use the dentist's mirror to teach teeth brushing techniques and examine for cavities.
How does it improve developmental skills?

Discover our Montessori wooden toys - unique, sustainable and versatile! Fairly produced in small quantities, it promotes early childhood development. Without colours, made of solid wood and handmade for highest quality. The interactive elements such as textures, shapes and activities stimulate cognitive, fine motor and social skills. Your child will experience an exciting journey of self-learning and develop their creativity. A sustainable toy for a sustainable future!
Are the materials used safe?

We understand that early childhood play essentials need to be safe. All materials used in our quiet books are carefully selected and rigorously tested to meet international safety standards. We use child-friendly fabrics and non-toxic dyes.

Designed in Germany

Oekotex Certified

Child Safe
Meaningful

Play

This play essential enhances specific cognitive, fine motor and social & emotional skills. Find out which milestones they cover below.
Improves ability to focus without getting distracted.
Fosters logical reasoning and problem solving skills.
Boosts coordination between hand and visual perception.
This product is rated 5.0 of 5.0 stars.
It has received 1 review.
Schöne und sinnvolle Spielsachen, good Job!