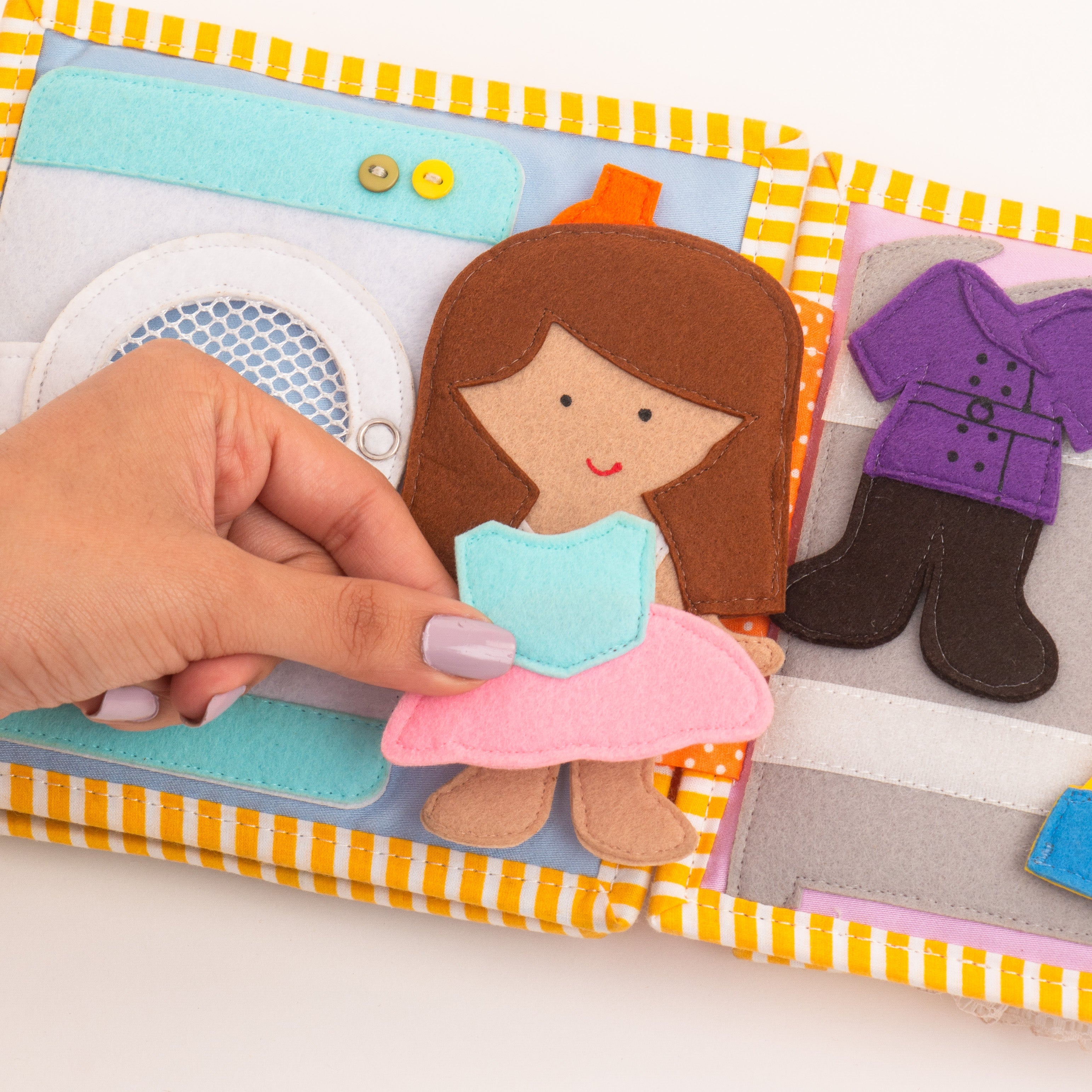 Home Sweet Home - 6 Pages Mini Quiet Book
helps to practice routines together in everyday life.

As a doctor in pediatrics and a mom, I love Quiet Books. Especially because Quiet Books are so intuitive, free play is encouraged without overwhelming the children. My child loves his Quiet Book and spends a lot of time alone and independently with it.
Dr. Celine Schlager, MD
The Home Sweet Home Quiet Book brings the exciting topic of "daily routines" into the children's room. This colorful and thoughtful educational toy helps to practice routines in everyday life together. The 2 finger puppets accompany through everyday situations, bringing fun and making this toy educational for ages 2 and up.

What makes this Quiet Book special?

Montessori principles

Perfect on the go

Alternate to TV

Designed in Germany

Machine Washable

Made with highest safety
Why should I choose this for my child?

Home Sweet Home helps toddlers familiarize themselves with their daily routine, promoting a sense of structure and understanding of everyday life.
Activities like making the bed, hanging clothes, tying shoes and buttons promote fine motor skills, hand-eye coordination, and dexterity as children manipulate the book's interactive components.
Introducing practical life skills, such as organizing personal belongings, setting the table, and tidying up, promotes responsibility and self-sufficiency.
How does it improve developmental skills?

Discover our Mini Quiet Books, developed according to Montessori principles for early childhood education. A TV/tablet alternative that includes interactive elements such as textures, colours and shapes to encourage cognitive, fine motor and social skills. Designed in Germany and made from highly safe, certified materials. Machine washable and perfect for travel - so your child can discover the world through play!
Are the materials used safe?

We understand that early childhood play essentials need to be safe. All materials used in our quiet books are carefully selected and rigorously tested to meet international safety standards. We use child-friendly fabrics and non-toxic dyes.

Designed in Germany

Oekotex Certified

Child Safe
Meaningful

Play

This play essential enhances specific cognitive, fine motor and social & emotional skills. Find out which milestones they cover below.
Fosters logical reasoning and problem solving skills.
Improves understanding of categorization and comparison.
Boosts coordination between hand and visual perception.
Fosters staying engaged & ability to stay focused.
Improves critical thinking and logical reasoning.
This product is rated 5.0 of 5.0 stars.
It has received 24 reviews.
A really lovingly designed book
A super occupation book with learning effect - our daughter likes it very much!
Home sweet home - a beautiful gift
Everything worked out wonderfully! Thanks a lot
Everything great, sweet details