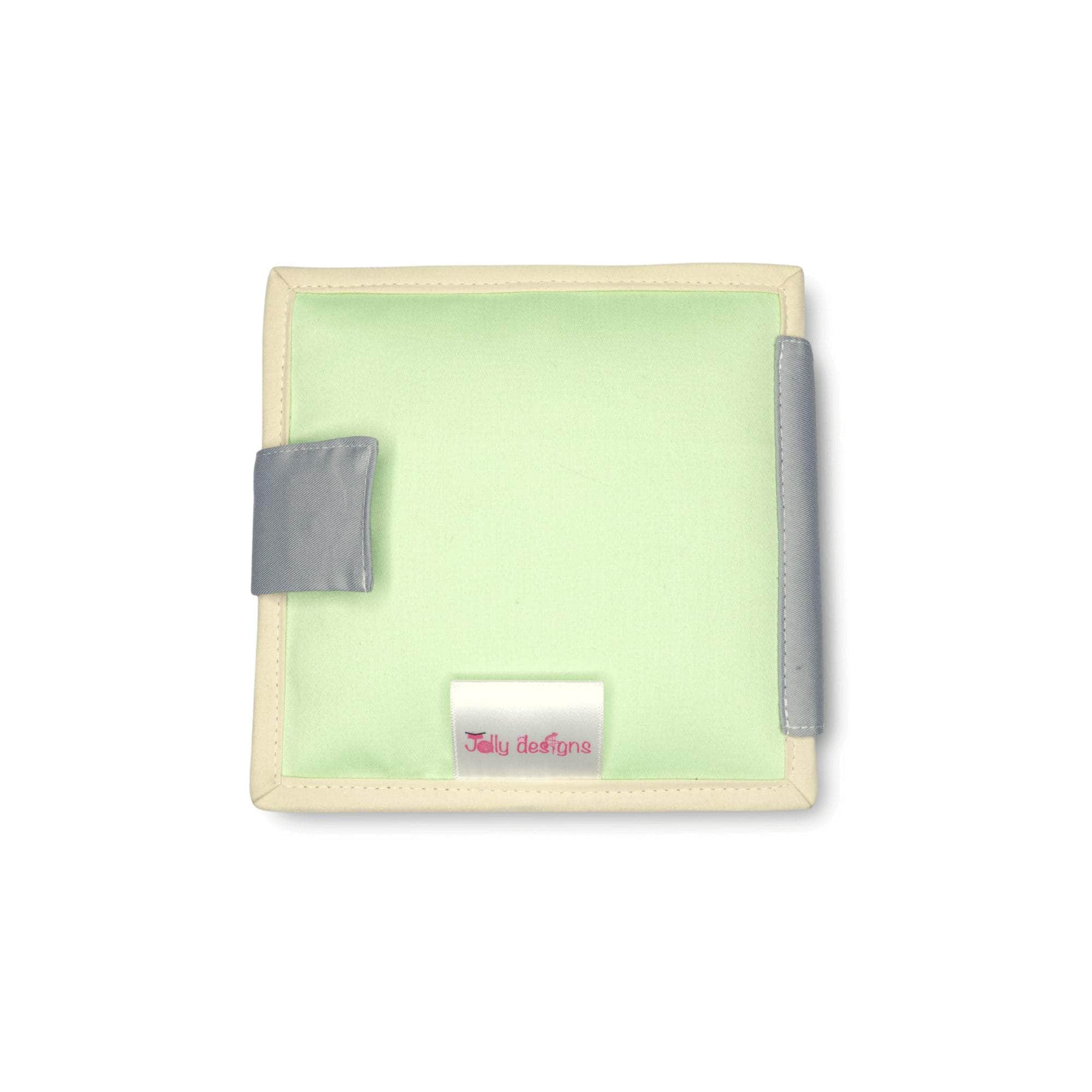 Happy Sheep (From 4 Months) - 6 Pages Mini Quiet Book
Meaningful toys to feel and discover

As a doctor in pediatrics and a mom, I love Quiet Books. Especially because Quiet Books are so intuitive, free play is encouraged without overwhelming the children. My child loves his Quiet Book and spends a lot of time alone and independently with it.
Dr. Celine Schlager, MD
Our Happy Sheep quiet book has 6 pages to introduce fun animals and objects to your baby even if they are as young as 4 months old. This book fosters sensory exploration and visual perception. Perfect for tummy time and improving focus and concentration. Use this book till your lil one turns 12 months or more.

What makes this Quiet Book special?

Montessori principles

Perfect on the go

Alternate to TV

Designed in Germany

Machine Washable

Made with highest safety
Why should I choose this for my child?

Our Happy Sheep Mini Quiet Book, specially designed for your 4-month-old baby! Packed with engaging activities that promote brain development. It includes peek-a-boo, sensory play, touch and feel, and mirror-looking, all designed to stimulate your baby's senses and foster cognitive skills.
- Peek-a-boo develops object permanence.
- Sensory play enhances fine motor skills.
- Touch and feel strengthen tactile perception
- Mirror looking encourages self-awareness and social interaction.
How does it improve developmental skills?

Discover our Mini Quiet Books, developed according to Montessori principles for early childhood education. A TV/tablet alternative that includes interactive elements such as textures, colours and shapes to encourage cognitive, fine motor and social skills. Designed in Germany and made from highly safe, certified materials. Machine washable and perfect for travel - so your child can discover the world through play!
Are the materials used safe?

We understand that early childhood play essentials need to be safe. All materials used in our quiet books are carefully selected and rigorously tested to meet international safety standards. We use child-friendly fabrics and non-toxic dyes.

Designed in Germany

Oekotex Certified

Child Safe
Meaningful

Play

This play essential enhances specific cognitive, fine motor and social & emotional skills. Find out which milestones they cover below.
Enhances visual processing skills.
Fosters staying engaged & ability to stay focused.
Improves ability to focus without getting distracted.
Stimulates senses for holistic development.
This product is rated 5.0 of 5.0 stars.
It has received 21 reviews.
Everything great, I am thrilled
Super part
Beautiful presentation that will not be the last
Happy Sheep (from 4 months) - 6 pages Mini Quiet Book
Sweet gift
The book has great quality and is exactly like in the video. It doesn't smell like chemicals either. It is sugar sweet and will give it as a gift. When I have a child myself - I will order books from here too ?
Happy Sheep Quiet Book
The book is super cute and designed with great attention to detail! I can only recommend it!