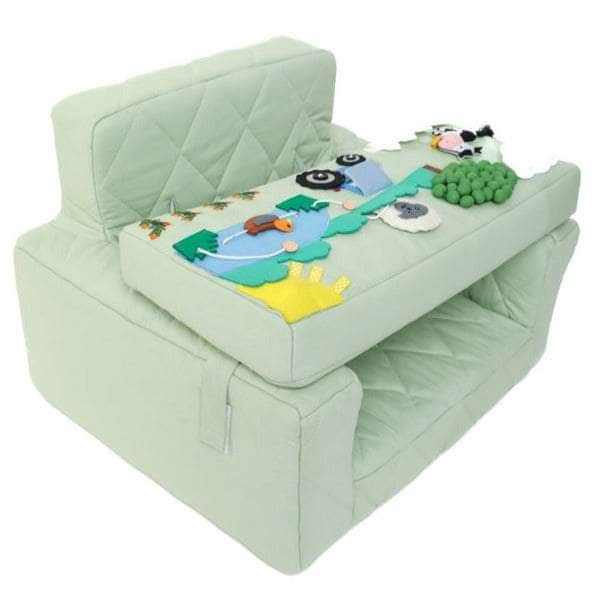 Activity chair (rectangular) green

As a doctor in pediatrics and a mom, I love Quiet Books. Especially because Quiet Books are so intuitive, free play is encouraged without overwhelming the children. My child loves his Quiet Book and spends a lot of time alone and independently with it.
Dr. Celine Schlager, MD
Activity armchair Ecki is soft and provides stable support with a secure inner insert. Ecki has no loose parts, making it perfect as an armchair for children's rooms.



Fits perfectly with:
Pad for Ecki activity armchair allows to touch, feel and train fine motor skills. A trip to a farm is an absolute fascination for every baby and with this overlay can be rustled, squeaked and discovered. The securely integrated mirror and sliding duck create an interactive play experience.

What makes this Quiet Book special?

Light Weight

Practical Handles

Includes Safety Belt

Attached Elements

Interchangeable Covers

Personalisable
Why should I choose this for my child?

Der Ecki Aktivity Sessel besticht durch sein kantiges und kindgerechtes Design.
Mit einer Darstellung des Sonnensystems und einer austauschbaren Tafel können Kinder ihre Sinne anregen, während sie die Planeten erkunden. Durch einen Klettverschluss können sie den Astronauten abnehmen und wieder aufsetzen, was die Feinmotorik und die Auge-Hand-Koordination fördert.
Sie können rascheln, sich bewegen und verschiedene Elemente entdecken, wodurch eine ansprechende und taktile Lernumgebung entsteht.
How does it improve developmental skills?

Entdecke unseren Activity Sessel - leicht, sicher und spannend! Mit interaktiven Elementen wie Texturen, Farben und Formen, die die frühkindliche Entwicklung fördern. Der Sicherheitsgurt sorgt für Schutz beim Spielen. Feste Elemente bieten stundenlangen Spaß. Austauschbare Abdeckungen ermöglichen individuelle Gestaltung. Praktische Griffe für einfaches Tragen. Personalisierbar für ein einzigartiges Erlebnis!
Are the materials used safe?

We understand that early childhood play essentials need to be safe. All materials used in our quiet books are carefully selected and rigorously tested to meet international safety standards. We use child-friendly fabrics and non-toxic dyes.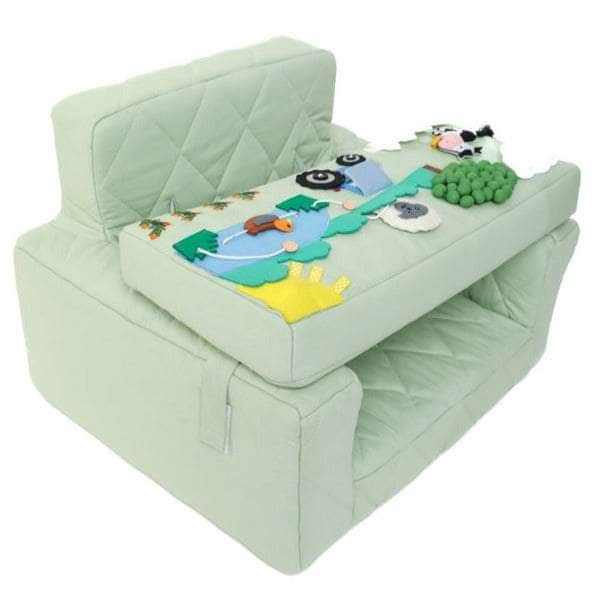 Designed in Germany

Oekotex Certified

Child Safe
This product has no reviews yet.